Welcome to this month's roundup! We have a lot of news to celebrate, especially since our busy calendar didn't allow us any room for a roundup last month. So this is two month's worth of news!
First up is Skylar Kade, whose
F/F novelette "Exposing Ellen" has been contracted by
Decadent Publishing
for their
1Night Stand
series!
In case you missed last Friday's post, Juniper Bell is pleased to announce that My Three Masters (the sequel to My Three Lords) will release on August 2. Check it out here:
http://www.ellorascave.com/my-three-masters.html
Erin Nicholas
held a fun book club and author Q&A on July 19th for She's the One, book
one of the Counting on Love series. If you missed it, she has the transcript! She's looking forward to doing another
one! In the meantime, Erin's
Blog Tour for She's the One will run
August 19- Aug 30
with prizes at each
stop and a Grand Prize of a $50 gift card to Amazon or B&N (winner's
choice). Details can be found here:
And, in case you missed the cover reveal for book two in the series, It Takes Two, there it is again on the right.
Meg Benjamin's newest release, Medium Rare, will be out
on August 20
.
To celebrate, she'll be giving away copies of the first book in the Ramos Family/Medium trilogy, Medium Well, for the next three weeks.
Check for details on Facebook and Meg's blog (
http://megbenj1.wordpress.com/
).
Kelly Jamieson recently celebrated the release of How to Love, the second book in her scorchingly hot San Amaro Singles series.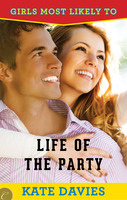 Life of the Party, the third and final book of Kate Davies' Girls Most Likely to... trilogy also r
eleased in July. Guilty Pleasures liked this one as well: "

I had a good idea where book three was headed, but I had no idea the delicious treat it would be.

"
And speaking of reviews, Meg Benjamin and Sydney Somers both received very favorable reviews from RT magazine on Bolted and Busted, books two and three of the Promise Harbor Wedding series. Unfortunately, those reviews are still too new for us to link to, but details on the entire series can be found here:
http://store.samhainpublishing.com/promise-harbor-wedding-series-415.html
Finally, PG Forte continues to heat up the summer with her ongoing game of Oberon's Sexiest Man. Join the fun on her Facebook group, The Crone's Nest
https://www.facebook.com/groups/TheCronesNest/
Next game date: Sunday, August 4th from 1 to 6 pm (PDT).